Wooden Crates have been riding the decor trend for a few years now. I fell in love with them years ago after moving into my new house and looking for ideas to decorate the new space. The wooden crates stood out as an affordable and interesting way to get creative with home decor. After running through a good many pins over time, I've collected those which seem to be more unique and a few of the ones I've done myself. If you're a DIYer like me, you like to try to do everything yourself and need some inspiration to get your own creative juices flowing. I hope this list helps with generating some of your own home decor ideas!
1. Hanging Closet Storage
This hanging closet storage by Table and Hearth has a such a cute look to it.
---
2. Shelving
I've seen quite a lot of crates used for shelves, but this one adds a unique twist with the board used for anchoring. Check it out at Family Handyman.
---
3. Modular Shelving Unit
It might be the pretty yarn display that pulled me in, but I love this shelving unit concept by Make & Do Crew. Look it up here DIY Yarn Storage Shelves Using Wooden Crates – Video Tutorial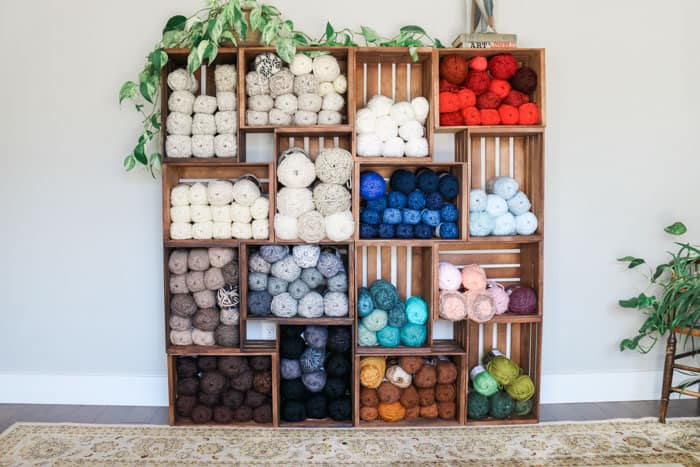 ---
4. Sliding Drawer Crate Cabinet
Try your hand at adding some hardware with this crate cabinet with sliding drawers by Virginia Sweet Pea.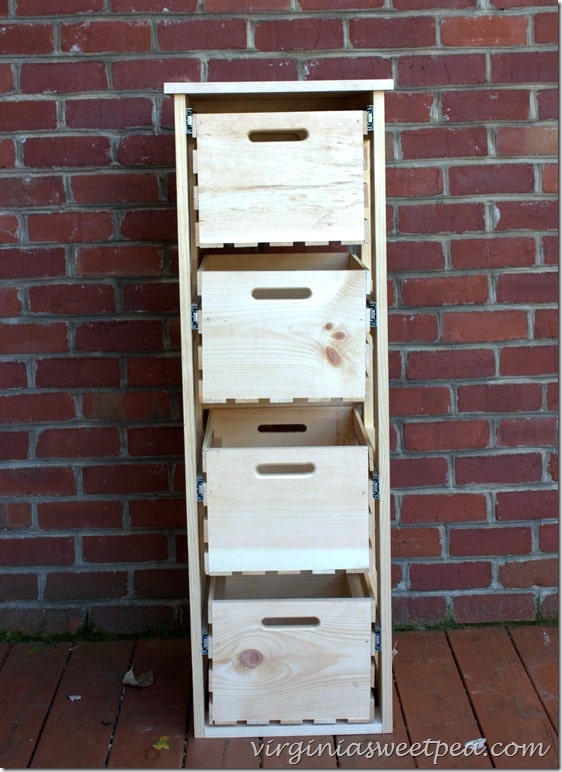 ---
5. Locker Cubbies
Jaime Costiglio's locker cubbies are a great combination of simplicity and creativity to create a unique wooden crate structure. 
---
6. DIY Crate Lockers
This next idea is so fun! A simple addition of hinges and doors and it's a whole new look. Get the info from Little House of Four on these DIY Crate Lockers.
---
7. Coffee Table
There are quite a few crate coffee table ideas out there. This one stood out to me as being more creative in addition to being rustically appealing. Get the info at Pallets: Pallet Furniture Ideas.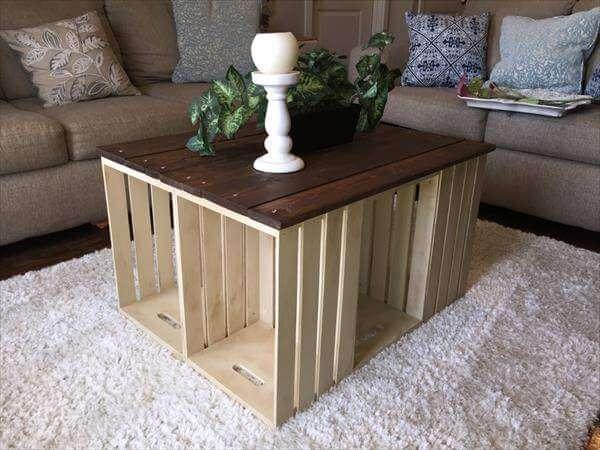 ---
8. Shutter and Crate Sofa Table
Follow Bless this nest's lead and throw in a long shutter with the wooden crates for this oh so cute sofa table.
---
9. Cushioned Stools
When I saw this awesome simple yet adorable idea, I was bummed I hadn't ever considered it before. An easy storage seating idea for your little ones. Get the details at The Biggest Much.
---
10. Dog Bowl Stand
This isn't your typical buy a crate and rework it project but has all the appeal of the crate look. If your looking for a DIY project for your pooch, check it out at Ana White.
---
11. Train Planter
11. There are quite a few planter crate ideas out there. I choose this one for its creative concept. Definitely not something everyone has room or desire to do, but it's certainly appealing to see. Head over to DIY Wood Crate Train Planter Tutorial for the details.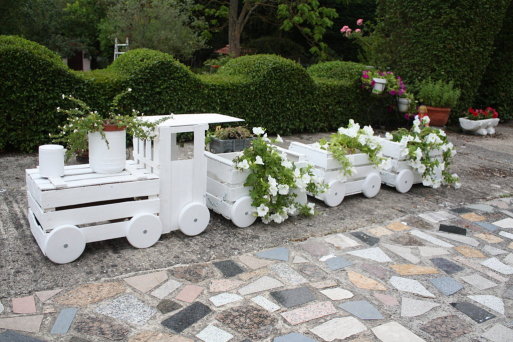 ---
12. Dog Bed
The little sleeping pomeranian kind of steals the show in this picture. If you're able to look beyond that cuteness you'll definitely appreciate the simple and appealing dog bed concept crafted from a store-bought wooden crate. If you want the details, check it out here Little Things.
---
13. Bed Platform
I've been looking at ideas for bed frames for my daughter and came across this interesting crate bed platform by Moved to Create.
---
14. Desk
With virtual school in full swing, you can't go wrong throwing together a desk like this one. Take a better look here Apple Crate Desk.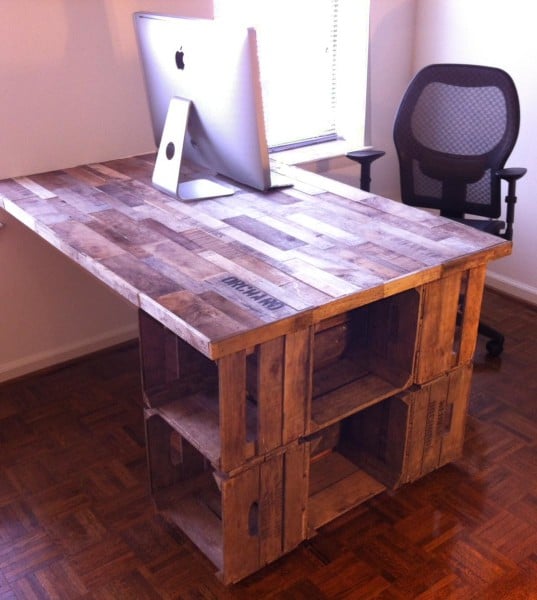 ---
15. Closet Shelves
I had overbought crates when I was doing some building, so I decided to repurpose them in a simple fashion in our small pantry closet. I just stacked them up and they were ready for use.
---
16. Square Coffee Table
When I was trying to figure out what to do for a coffee table in our new living room, I scoured Pinterest for ideas. I loved the look of this coffee table and went about making it. I also did a matching side table.
---
17. Stuffed Animal Storage
The coffee table ended up being much too small for the space. I opted to disassemble it to remake it into a much needed stuffed animal storage shelving system. These days it doesn't house so many stuffed animals. Check it out in the new teen space.
---
18. Laundry Room Storage
I'm looking to spruce up my small laundry room. I saw this cute idea on the Home Depot blog for laundry storage space. As a side note, I might go ahead and decorate my washer and dryer with some electrical tape to get this appealing look.
---
19. Fruit Crate
If your like me and looking to wanting to switch out your fruit bowl, go no further. The Wood Grain Cottage can show you how to craft your own fruit crate.
---
20. Nightstand
Check out Plaid for this simple nightstand with a pop of color and pattern.
I hope you found some ideas to fit some of your home decor needs. Thanks for checking out the list!